For the cruise industry, the crisis that's unfolded in the past several months has been the worst it has ever faced.
Passengers have been sickened, cruises cancelled, and billions in revenue has been lost. That's to speak nothing of the negative headlines, or the "No Sail Order" and travel warnings placed on cruises by the government.
As of today it's not clear when cruises will get back to sailing, or exactly what the industry will look like when that day finally comes.
Even so, we know that day will come and can look forward to it.
And while it might not be easy to see in the middle of the storm, there is reason to believe that some good may actually come from the devastation caused by the crisis.
In the future, it's likely that cruises will be cleaner and cheaper than we've seen in the past. But that's just the start of the good things that could come in the wake of this outbreak.
Lower Cruise Prices
While it's not good for cruise lines, one of the best things that might come out of this could be great for passengers. That's lower cruise prices.
Cruise ships have sat idle for weeks without passengers. The negative headlines about illness, along with uncertainty about when ships will actually sail again is a double-whammy for demand. It's a no-brainer that it will be more difficult to have ships sail at capacity.
So what can cruise lines do to get people on board? The easiest thing is to lower prices. If someone wants to head to the Caribbean, why spend $2,000 for flights, hotels, and food when a $1,000 cruise could do the same thing?
Already we've seen some price drops on cruises that we've tracked since February. Savings of several hundred dollars have been seen on some cruises compared to their prices seen just a few weeks ago.
Not every cruise line will be quick to cut prices. Specifically, Norwegian Cruise Line has made comments that they don't want to simply cut prices as a way to increase demand.
Even so, when cruises get back to sailing, we'd expect price to be a major factor in getting people on ships.
More Booking Perks
While price might be the easiest way to stimulate demand, it's not the only tool that cruise lines have to get people to book trips. Another good thing from the outbreak is that cruise lines are likely to use booking perks to entice passengers.
In fact, we are already seeing this in some areas. Carnival, for instance, has offered passengers that had cruises cancelled due to suspended sailings a 100% future cruise credit and a massive $600 onboard credit if they rebook by the end of 2020.
Norwegian has run its "Free at Sea" offer for years, where passengers can select among a group of perks to enjoy (including free drink packages, specialty dining, wifi, and more). The number of free perks you could get depended on the level of cabin that you booked. For instance, an interior cabin was eligible to pick one perk while a suite could get them all.
In the wake of this crisis, Norwegian is now offering all the perks to all cabins.
We'd expect to see more of these types of offers across the industry as lines try to fill their ships.
Cleaner Cruise Ships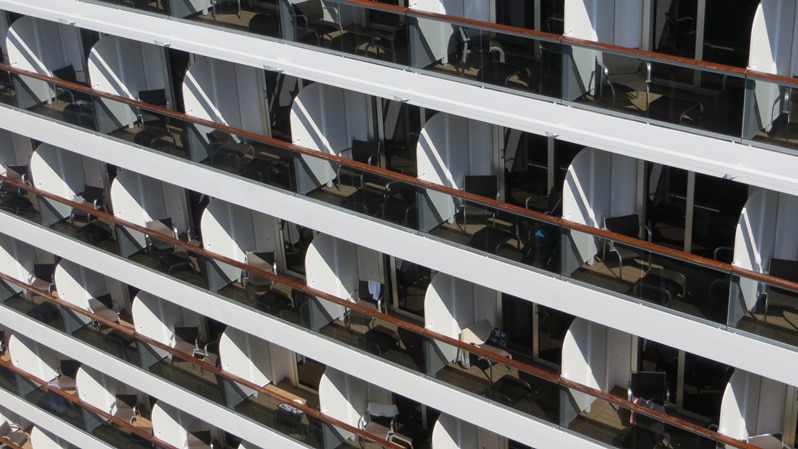 You don't want to get sick on a cruise. No one does. But it may be the cruise lines that have an even bigger interest in you staying healthy.
For the past two months the world has seen story after story about cruise ships and the crisis. Even after lines suspended new sailings, those ships already at sea continued on their journeys, leading to more cases.
At this point, having more outbreaks on a cruise ship would be devastating for the industry. That's why you can expect cleaner and healthier cruise ships in the future.
This will likely start with continued enhanced screening before boarding, including temperature checks. From there, expect ships to be sanitized more frequently, more rigid protocols around food (it's likely buffets will no longer be self-serve), and lots more hand sanitizer stations around the ship.
The moves won't guarantee no more illness on cruises, but ships should be even cleaner than they were before the crisis.
Better Protocols for Outbreaks
One of the big issues with the illness and cruising was the drama that played out with getting passengers off ships.
Early cases like the Diamond Princess led to ship-based quarantines that allowed the virus to spread. Future cases looked to get passengers off of cruise ships, but many ports wouldn't accept the ships. That led to "standoffs" where ships could have to wait days before they were allowed to port.
When cruises sail again, there should be better protocols in place for these situations. In fact, the recent CDC "No Sail Order mentioned specifically that cruise lines must "develop a comprehensive, detailed operational plan approved by CDC and the USCG to address the COVID-19 pandemic through maritime focused solutions, including a fully implementable response plan with limited reliance on state, local, and federal government support."
In other words, before they can sail again, there will have to be better protocols in place to deal with a potential outbreak and the fallout that comes with it.
Thankful Ports
So much of this crisis has focused on the sick passengers and the cruise lines. But there are so many others that are impacted by the crisis. Very little is mentioned about the ports of call and the thousands of people at each port that rely on cruise ships to make a living.
Tour operators, vendors, restaurants, and more have all been hit hard when the cruise ships that used to come daily stopped sailing.
When cruises return, expect these ports — and the locals that make their living off cruise ships — to be among the happiest to see passengers return to their shores.
More on the cruise crisis: