Sitka is a popular port of call on many Alaskan cruises. Sitting about 850 miles from Seattle, the small town of about 8,500 is located on the western edge of the state's panhandle. Despite not being a household name, the port features an amazing amount of history, wildlife opportunities, culture, and classic Alaskan scenery.
But if you've never sailed to Sitka before, then there are plenty of things to familiarize yourself with when visiting the amazing port on the Gulf of Alaska. From how to get around to what to do, we cover what you need to know about visiting Sitka on a cruise…
General Overview: What to Know About Sitka
While we'll get into lots about this port of call below, there are some general things you should know.
First, the small town has a big history, including a presence from native peoples, Russians, and Americas. Today it definitely caters to tourism, but it is much more than just a town for tourists — there's plenty of history, culture, and wildlife to see in the area.
Within a small area you'll find lots to do an experience, whether you want to see a sanctuary for rescued bears or totem poles built by native people in a National Historical Park. Navigating the town is easy and there is a lot to be seen lurking around every corner. As an added bonus, the landscape surrounding the town is breathtaking.
In short, Sitka is an amazing port of call that you don't want to miss.
There Are Two Different Places That Ships Dock (Either Offshore, Or At A Pier)
Depending on your specific cruise line, you'll dock in one of two areas to visit Sitka.
The first is in Crescent Bay, just off the coast of the town. Anchoring in the bay, you'll take a tender back and forth into the port. The tender drop-off location is right near downtown where there are a number of things to see and explore.
Another possibility is the Sitka Sound Cruise Terminal (sometimes known as the Old Sitka Dock). In this case, you'll dock at a more traditional pier that you can just walk on and off the ship. However, this terminal is about 5-6 miles from the downtown area.
There's A Free Shuttle Into Town
If you dock at the Sitka Sound Cruise Terminal, then as mentioned, you will be a considerable distance from the town itself. Not to worry, there are large shuttle busses that run constantly between the cruise port and the town during the entire day.
As you exit the ship, you'll see the signs for the shuttle into port. It's completely free and you can come and go as you please. One issue is that the line can get long. During a cruise that we took, we stood in line for about 30-40 minutes before boarding the shuttle.
Once on the bus, however, the ride is just about 10 minutes and gives you a nice passing view of the area. The shuttle then drops you off at the Sitka Historical Society and Museum, which is right in the heart of everything to see in Sitka.
Know The General History Before You Go (It's Eclectic!)
Sitka's history is a mix you won't get anywhere else. The native people lived here for thousands of years until Russians came in the late 1700s for the fur trade. From there, the Russian presence grew, leading to a large influence in the growth of the town, its population, as well as battles with the natives.
In 1867, the United States purchased Alaska from Russia, officially making the area part of U.S. territory, which would then become a state about 90 years later.
So in this one area you have the influence of the native Tlingit (pronounced kling-kit) people, Russians, and Americans.
Downtown Is Easily Walkable (And A Neat Spot To Explore)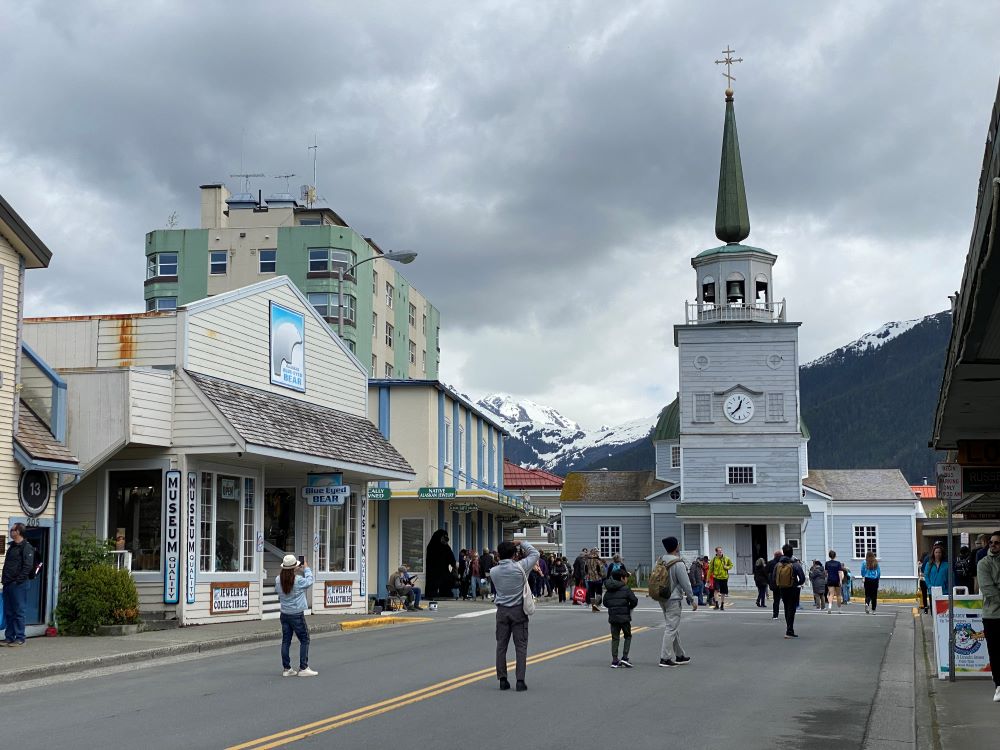 Downtown Sitka is the main hub of the area and where you'll find many people exploring when ships are in port. You'll also see the influence of all the different cultures that have called this area home.
The most famous landmark is St. Michael's Orthodox Cathedral. The church sits in the middle of the town square, and was originally built in the mid-1800s. A fire destroyed the building in 1966, but an exact replica was built back in its place. Today it still holds services and is on the National Register of Historic Places.
Elsewhere around the quaint downtown area are a number of shops selling everything from souvenirs to gourmet salt, and restaurants to grab a bite off the ship. One nice thing is that the town blocks off the area, so that cruise passengers don't have to worry about car traffic.
Keep An Eye Out For Bald Eagles Everywhere…
Bald Eagles are a national symbol and seeing them is a rare experience for most people. In Sitka, however, they are fairly common. Their white heads are distinctive and if you keep an eye out for that gleam of white, you might just get lucky.
We have personally seen them just casually soaring over the town, just like you'd expect to see a blackbird or a blue jay… except much larger of course.
…But Visit The Alaska Raptor Center To See Bald Eagles Up Close
One unique thing in Sitka you can't do anywhere else? See bald eagles up close. The Alaska Raptor Center on the edge of town rehabilitates eagles (and other birds) brought to them. Some have been injured by run-ins with power lines or have eaten poisonous objects and need treatment.
You can go explore the facility and see the bald eagles much closer than out in the wild, along with other birds like owls and falcons.
Excursions are available through the cruise line (and will include transportation), but admission on your own is $15 per adult. The spot is located on the edge of town, about a 20-minute walk from downtown.
Take the "Totem Trail" at Sitka National Historical Park
Think of national parks and you likely picture wide open spaces like Yellowstone or Yosemite. But there are a number of areas under the National Park Service supervision, including this spot.
The Tlingit people inhabited this land long before more recent settlers. One of their hallmarks are totem poles. This park seeks to preserve that history and features some original pieces from the area, along with details on how they were made.
But the big draw is a walking trail through dense forest along the shoreline that is dotted with replica totem poles rebuilt from originals. The walk itself would be a neat thing to do as you get to experience the nature of Alaska. However, the totem poles are amazing works of art that you don't get to see every day.
You Can Walk the Main Area of Sitka in About 20-30 Minutes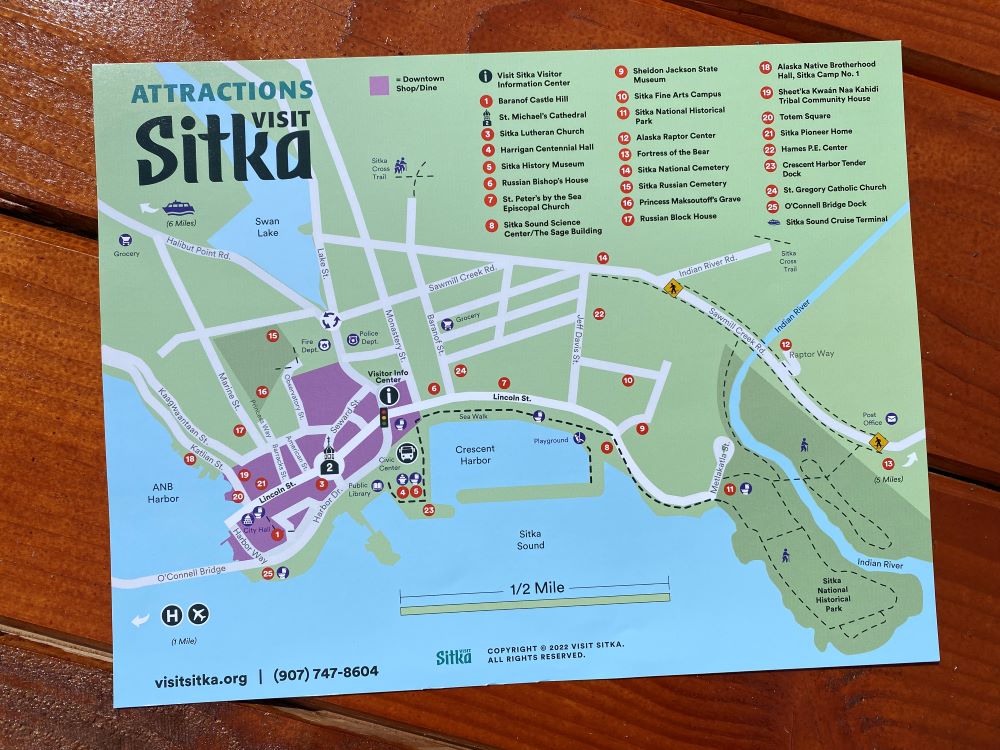 If you're visiting Sitka, then bringing your walking shoes is a must. While the town itself is plenty spread out, the downtown area where most visitors enjoy is relatively small. You can walk from one end to the other in about 20-30 minutes.
As well, the area is relatively flat, well-paved, and traffic is usually light (even blocked off in the main downtown area). That means while the walk can take a little bit of time, it's fairly easy to do. Just remember that if you go off on a walking tour on your own, you'll also need to factor in the time it takes to return back to the pickup point for your ship.
Baranof Castle Hill Is A Must-See
First, let's get one thing out of the way — don't expect to see a castle when you visit. But this spot is still well worth your time.
Located just behind the Sitka Hotel and up a hefty set of steps is the historic spot called Baranof Castle Hill. This spot is the highest in the immediate area, making it a strategic importance. But today, it offers a stunning 360-degree view of the entire area where you can see for miles.
More importantly, it's at this spot where Russia and the United States lowered the Russian flag and raised the U.S. flag, officially ceding control of Alaska to the Americans. Being at the site of such an important event is worth seeing.
Your Phone May Get Service… Or May Not
Alaska is known for its remoteness, but the cities often have many amenities you are used to back home. And that can mean cell service that's part of your plan, allowing you to get in touch.
Now full disclosure — we use a discount cell provider (Mint Mobile) and did not have any cell service in Sitka or other Alaskan ports. However, we noticed that many people did while in port. Asking around, it seemed that AT&T and Verizon customers were able to use their phones in Sitka, with decent service.
So if you have an upcoming cruise and one of these services, then yes, your phone should work.
Need Wi-Fi? Check The Public Library
Many people opt to book a wi-fi package during their cruise, but it can be pricey — $25 per day is common. So if you want to save some money, then you can wait until you reach port and then connect to wi-fi offered by places like restaurants and stores catering to cruise passengers.
In Sitka, there is a public library (right next door to where the shuttle from the Sitka Sound Cruise Terminal drops off) with free wi-fi. You can go inside, or sit on a bench outside taking in the view and spend a few minutes checking in back home. If you only need occasional access to the Internet, then this option can save you lots of money.
Dressing for Sitka Weather Can Be Complicated
The best advice for dressing while in port in Sitka? Be ready for anything. If the sun is out, then it can be warm enough to go in short sleeves and shorts. But if the wind blows off the mountains or the water, then even in the sun it is cold. As well, if it is cloudy or even if you are in the shade, then you can quickly get cool.
That's why it's best to dress in layers, to where you can add or subtract clothing as needed to keep comfortable. One other thing to know is that May and June are the driest months (with about 3-4 inches of rain), but July-September get much wetter. In total, the city gets about 235 days of precipitation, so you should always be ready for the wet stuff.
Your Best Chance to See A Bear In Sitka
Seeing a bear in Alaska? That would be the highlight of anyone's trip. But not everyone wants to run into a bear in the wild, and even if you did, there is no guarantee it would happen.
But if you want to be sure to see a bear, then Sitka offers the Fortress of the Bear — a rescue center for orphaned bears. Today there are eight bears that live here on a permanent basis. From viewing decks into the oversized pens, you can watch the bears eat, play, and relax much closer than you've likely ever been (while still being in a safe spot!).
Fortress of the Bear is located about six miles east of downtown, so you'll need a ride or to arrange an excursion. Admission is $15 for adults.
Do Some Souvenir Shopping (And See A Mammoth Skull)
In the downtown area of Sitka you'll find a number of shops selling everything from Alaskan magnets to Russian nesting dolls (fitting with the area's Russian history) to local artwork. These souvenir shops dot both sides of the street. If you can't find what you're looking for in one of these shops, then it likely doesn't exist.
One neat thing that we stumbled upon was the skull of a woolly mammoth said to be 30,000 years old. It was tucked in the corner of the Russian American Company and was not something we expected to see when we walked into the store.
Get A Bite To Eat Off The Ship (Great Restaurants)
One nice thing about visiting a port of call is that it gives you a chance to try some of the local fare off the ship.
Sitka has a number of restaurants up and down the main downtown area, serving everything from Mediterranean to tacos to pizza to Russian food. We'd suggest trying some of the local and fresh seafood.
When exploring the town, we stumbled upon some small food stands set up just behind the Sitka Hotel and near Baranof Castle Hill. One was called The Fresh Fish and served up a halibut ceviche that you'd be hard-pressed to find anywhere else than Alaska. It was a memorable meal and something we'd highly recommend to people wanting something local to eat while in town.
More on Cruising Alaska: