There's just something about cruising that captures the imagination. Those that have sailed before likely still daydream about their vacation (and taking another one). Those that have never sailed before have lots of preconceived notions of what life is like on the ship.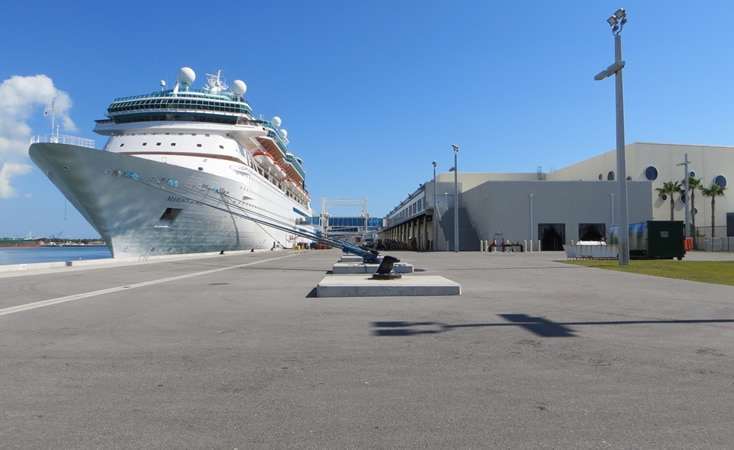 Many of those pre-formed ideas come from the Internet and television. Whenever something happens to a cruise ship — whether it be the inaugural sailing of the newest and biggest ship or an illness outbreak — it makes front page headlines, deserves mention on the nightly news, and is discussed online.
But for those that have sailed, they realize quickly that some of what they might have thought cruising was like turns out to be a myth. In fact, the first time sailing can end up being completely different than what you might have expected.
With that in mind, we're diving into some of the biggest myths surrounding cruising… and why simply aren't true.
Cruise Ships Are Full of Older Passengers
The clever adage is that cruises are for "the newlywed and nearly dead." That might have held water years ago, but it's certainly not the case today. When you board a cruise aboard a major line like Carnival or Royal Caribbean, you'll find everyone from small kids to older folks and everything in between.
In fact, you need to look no further than the amenities offered on cruise ships to see that everyone goes on cruises. Ships are built to appeal to a broad age range. You'll find waterslides and kids clubs for children, trendy bars and nightclubs for younger adults, and quieter lounges and fine dining for older passengers.
According to Cruise Lines International Association, 52% of passengers were under 50 years old on North American cruises in 2019. And 37% were under 40 years old.
That said, there are differences between cruise lines and the type of passenger they attract. A mass-market line like Carnival appeals more to younger passengers while luxury lines such as Celebrity you can expect an older crowd.
Less expensive and shorter cruises tend to have younger crowds. Pricier, longer trips cater more to older passengers. But these days, everyone takes cruises.
You Can Score Dirt-Cheap Last-Minute Cruise Deals
Last-minute cruise deals are something that we all dream about. The issue is… they don't really exist.
You'd think that you'd be able to get a cabin cheap if a ship was about to sail and the room was empty. After all, if a cabin sails empty, not only does the cruise line not make money on the cruise fare, but they also don't make money from onboard spending on things like drinks, excursions, and gambling.
The truth is, however, that cruises sail at capacity. During normal operations, the average cruise ship sails at about 105-107% capacity. One-hundred percent capacity means each cabin is filled with two passengers. Being at more than 100% capacity means some rooms have three or more passengers.
Cruise lines are experts at making sure ships sail full, and in our experience it's rare to see a drastically discounted rates right near the cruise date.
As well, cruise lines don't want to train passengers to wait until the last minute to book. Imagine if rates were always cut right near the cruise date. In that case, passengers would simply wait to save money and sail cheap. It would create tons of headaches in trying to plan for a sailing, as well as mean less revenue for the cruise line.
As a result, lines tend to keep prices steady instead of offering last-minute deals.
You Are Always on a Schedule on the Ship
Many people mistakenly believe that when you cruise, you are on a strict schedule. Now, in some ways, that is true.
For instance, days in port have set schedules. You can't go ashore until the ship arrives in the morning, and you have to be back on board before the ship departs. As well, each day on the ship you'll receive a daily schedule that lays out everything happening on the ship. So you'll know that the evening show starts at 7 p.m. or that the belly flop contest is at 2 p.m. at the pool.
But on a cruise your time is your own. You don't have to do anything. Want to sleep in and go to breakfast late? You can do that. Want to just hang out by the pool? Or maybe you want to eat at 8 p.m. instead of 6 p.m.? Or maybe you want to go to the spa for a massage followed by a workout in the gym and then grabbing lunch?
You have the complete freedom to do what you want to do on the ship. The only schedule it to be back on the ship before it leaves port. Apart from that, you can do what you want, when you want.
Cruise Ships Are "Petri Dishes" For Disease
Cruising has been at the forefront of the health crisis. When COVID hit, stories about cruise ships seemed to be a regular fixture in the news. And before that, there were regular stories about norovirus and other viruses having outbreaks on ships.
Truth is that yes, viruses can spread on ships. With so many people within close proximity to one another, sickness is a concern — especially after 2020.
But to call cruise lines petri dishes is a misnomer. In fact, they may be among the most sanitized and carefully cleaned spots you'll ever vacation.
Cruise ships go through something called the Vessel Sanitation Program. It's an inspection headed up by the CDC that focuses on eight different areas, including galleys and dining rooms, housekeeping, and pools. Ships must score an 86 or better to pass. (See the cruise lines scoring highest here.)
And when it comes to COVID, under new protocols, the industry has seen about 400,000 passengers sail and only had roughly 50 cases.
Yes, illness can spread on a ship, but cruise lines take sanitation seriously. After all, it has a big impact on their bottom line.
The Food Is No Good
When you have 4,000 people on a cruise ship, feeding them is a big — and expensive — task. That's 12,000 meals a day, plus any snacks and what's needed to feed the crew. So it's no wonder with so much food needed, there is an idea that the food is low quality.
We will be the first to say that some food could be better. In particular, the buffets can leave something to be desired. To us they are just fine, but eating it every day gets tiresome.
However, the main dining room and restaurants around the ship? We have yet to have a bad meal. From steaks to burgers to Mexican to BBQ to Asian, we've tried tons of different food and restaurants on cruise ships. The quality has always been solid.
Now, the downside? For much of the best food, we think you'll want to dine in a specialty restaurant, which will cost extra money and isn't included with your cruise fare.
You'll Get Seasick on the Cruise
No one wants you to get seasick on a cruise — especially the cruise line. If you get sick, then the chances of you enjoying your trip are low.
But for the vast majority of people, seasickness worries are overblown. First, modern cruise ships are big. And the bigger the ship, the less you'll feel the ocean. That's not to say that you can't feel the waves at all, but most of the time it's very slight.
As well, modern ships have plenty of advance notice of weather and the ability to steer clear, sailing toward smoother waters. That's not to say that ships never face rough weather — sometimes it's unavoidable. But if you think that the entire trip will be rocking and rolling, then think again.
Beyond that, even if there is some rougher water, then a simple over-the-counter seasickness medication can help you feel more comfortable.
You Only See Touristy Spots
There's no argument that cruises — especially to the Caribbean — can be touristy. Many port areas like Cozumel are built specifically to appeal to cruise passengers. It's hard to say that Margaritaville at the cruise pier is very 'authentic.'
And for many passengers, that's no issue. But some people are more interested in seeing the real place they are visiting — not the touristy hotspots.
On a cruise, the tourist spots are definitely front and center, but you can absolutely get off the beaten path and see the real country. You can explore on your own, but there are also excursions that can show you more than you'd see otherwise.
For instance, one excursion in Belize takes passengers to Altun-Ha, an ancient Mayan city. This is about as far from a souvenir shop or party bar as you can get. The trip is then followed up by a boat ride down a river back to the ship, giving you the experience of seeing wildlife firsthand.
Don't think just because you're on a cruise that you can't see the real place you're visiting.