51. Free room service is becoming a thing of the past
Want a hamburger at 3 a.m.? It used to be free on a cruise ship, but the lines have moved toward a charge for room service. While many lines have some things for free like continental breakfast, they often now charge per item or a flat fee (order all you want for one price). Even though room service isn't always free, still don't forget to tip $3-5 to the waiter who brings your food.
52. Even if you don't show up at your time for dinner, you will still be seated
Having a set time to eat in the main dining room can be a pain. Say you want to go to an early show but it conflicts with your set dinner time. Or what if you lay down for a nap and don't wake up until your dinner time has passed? The good news is that it's no big deal.
Just head down to the dining room whenever you're ready to eat, and they will find you a place to sit. It likely won't be with your same waiter, but you'll definitely get fed.
53. You can get free drinks in the casino, but you have to spend major money
We all know that if you are gambling in a Las Vegas casino, you can expect the drinks to flow no matter how much you spend. On a cruise ship, that's not the case. If you're a nickel and dime gambler, you're going to have to pay for drinks in the casino. If you're betting big, however, then you will likely earn enough credit to get some free drinks.
Be sure to use your card every time you play to get your spending tracked so that the cruise lines know how good of a customer you are.
54. Bring drink flavor pouches for free drinks
Sodas and other drinks aren't free on a trip, but tea, lemonade and water are. A little trick is to bring a few packs of those drink flavors (available in every grocery store). Drop a pack into your water to instantly make your favorite beverage for free. It's also a good way to get the kids to drink something other than soda while on their vacation.
Safety & Health Tips for Your Cruise
Cruising is relatively safe, but there are still some things you should know about staying healthy on your trip.
55. Chances are that you won't need cruise insurance, but it does help
Odds are that you won't need the travel insurance you buy, but when you do, it's a lifesaver. Travel insurance can cover a ton of different things, including if you get hurt or sick on your trip. It's also handy if you lose your luggage or miss the boat and have to make alternate arrangements to meet your ship elsewhere (or get back home).
56. Never wear those cheap $3 flip-flops around the pool
You know those cheap rubber flip-flops that you can get for just a few bucks? They serve their purpose, but don't wear them around the pool! These sandals are notoriously slick on the bottom if they have any wear at all. All it takes is one wrong step on a slick ship deck to take a spill.
Instead, look for a pair of flip-flops that has decent tread so that you won't slip even if you step right in a puddle.
57. Cruise port security is nothing like the airport
No, you don't have to go through the same hassles that you see in airports to get on the ship. You don't have to take off belts… or shoes… or carry only 3 ounces of liquids. You'll just have your bags x-rayed and walk through a metal detector (no full body scanners!). Getting through security usually takes no more than a minute or two.
58. Packing over-the-counter medications is smart
When you're packing, it's a great idea to bring an assortment of medicines for general issues. Ibuprofen for a headache, Imodium for your stomach, aloe for sunburn, etc. These items are available on the ship, but can be pricey. As well, it's nice to simply have them on hand in the cabin instead of having to hunt them down when you need to take something.
59. Authorities check the passenger list for warrants… and arrest them on the way back
If you have an arrest warrant, think twice before getting on a cruise. Once you board, local authorities will often run the names of the passengers through a database to check for any outstanding warrants. The result? Assuming the warrants are for minor items, they will then let the passengers enjoy the cruise before escorting them off the ship once it arrives back at port.
60. Cruise ships are a great place for spreading a virus (wash your hands)
You know why you always hear about norovirus on cruise ships? That's because if you were going to create a conducive place to spread a virus, you would build a cruise ship. Having thousands of people in an enclosed area and the same dining facilities is ripe for spreading illness.
Cruise lines go to great lengths to sanitize and keep everyone healthy. Even so, definitely use hand sanitizer, which is available all over the ship. Proper hand washing is also important.
61. Always use your cabin safe. It's not perfect, but it's better than nothing
Unfortunately, we live in a world where you have to be cautious with your valuables. Theft does happen, even occasionally on a cruise. Every cabin will come with an in-room safe, which you should use whenever you leave the room. It's perfect for storing extra cash, electronics, passports and more.
It's by no means perfect, but the safe helps protect you from any "crimes of convenience" where someone snags an item just because it's left out in the open.
62. Be careful, the sun is way more powerful in the tropics
It's easy to underestimate just how quickly you can burn from the Caribbean sun. Whereas it might take 20-30 minutes to start getting burned back home, the more direct rays closer to the equator can do the same damage in just half the time.
The bad thing is that if you get sunburned, it can put you out of commission for several days, putting a damper on your cruise. Instead, the best thing to do is prevent getting burned. Wear wide-brimmed hats and put on plenty of sunscreen.
63. Get seasick? Get a cabin in the middle of the boat, as low as possible
Everyone seems to have their own home remedy for curing seasickness. There is only one method we know of that makes actual scientific sense, however. If you are prone to seasickness, then you want to book a cabin as low in the ship and as close to the middle of the ship as possible.
Think of the ship as a teeter-totter. It's the middle of it that would move the least as the ends rise and fall. There is less motion mid-ship, which could help you feel better when the seas are a little rough.
64. Green apples are a natural seasickness remedy
Maybe it's an old wives' tale, but green apples are supposed to be a natural cure for seasickness. That's why you'll often find them at the buffet. Grab one or two the next time you are feeling queasy and test it out.
65. Never climb or sit on the ship's railing
Head to a deck that's open to the water and you'll notice there are railings everywhere. Of course, you'd expect there to be a railing to keep people from accidently falling overboard. However, some people like to treat these rails as fun spots to sit for a photo or kids like to climb on the railings.
It shouldn't need to be said, but just to be clear — never climb or sit on the railing. It's dangerous.
General Tips & Things to Know for Your Cruise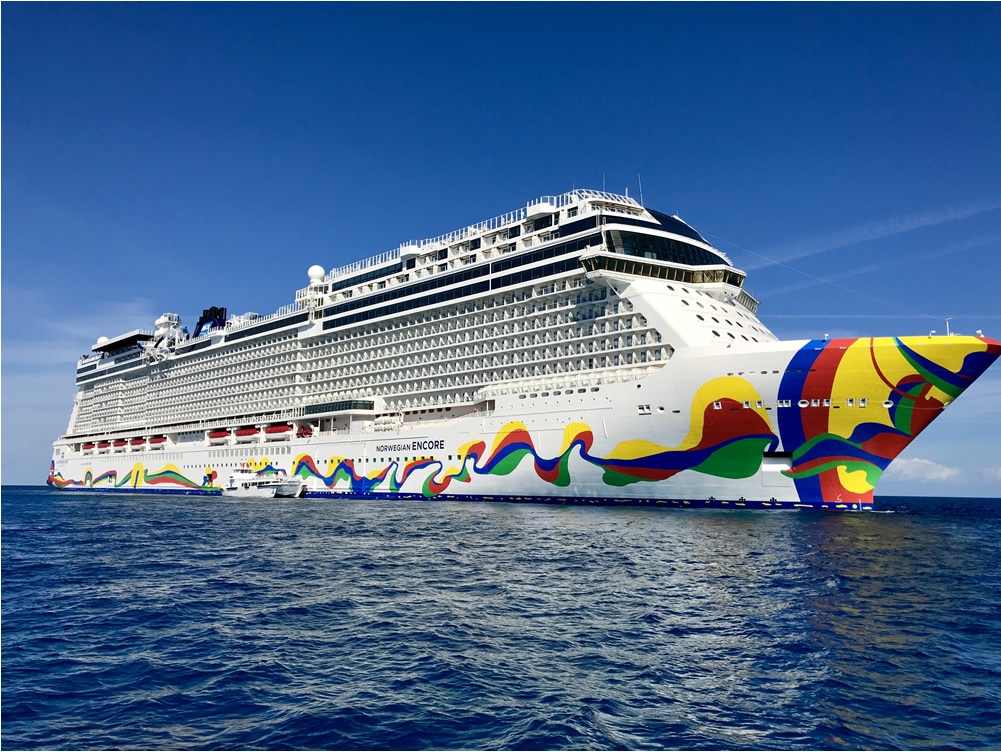 This section covers all sorts of aspects to cruising. From heading into port to what to do with your phone, we have important tips for you to know before you sail.
66. Download the cruise line's app before you board
We're usually not a fan of downloading a new app if we don't have to. But cruise line apps are extremely helpful. These programs include daily schedules, messaging to others on the ship, ship maps, and even tracking of your onboard spending account — all from your phone.
We'd suggest everyone download the app before your cruise to use onboard. It's much faster to download over home wi-fi instead of using your cellular network or the ship's Internet.
Learn more about Carnival's app, Royal Caribbean's app, and Norwegian's app.
67. You can debark when you want
Shhh… don't tell anyone, but you can actually debark the cruise ship when you want when your trip ends.
The cruise lines will call passengers deck by deck, but the process can take hours. If you already have all your bags and want to leave, you can just head down whenever you like. The staff doesn't check what deck your cabin is on, and they simply want passengers off the ship so that they can get ready for the next group.
One thing to keep in mind, however, is that lines can be extremely long right at the beginning of debarkation. Sometimes it's worth it just to relax for an hour and let the rush die down.
68. Interested in the spa? Take a free tour
The spa is a major point of emphasis on a cruise ship. You'll see promotions and ads for services throughout your trip. If you're interested in spending some time there but aren't sure if you want to spend the money, then take a tour. Spas on the ship will be happy to show you around and let you get an idea of what you can expect should you decide to visit for a service.
69. Hooking up with the crew is off limits
When it comes to having a fling on the ship, your eyes might be tempted by the crew. They're generally young, fit, international, and seem to be having a lot of fun. But if you want a hook-up, then keep looking elsewhere. Getting it on between passengers and crew is expressly prohibited. It can reportedly cost the crew member their job, no questions asked.
70. Look for a cabin on the upper decks of the ship
If you can, look for a cabin that sits on the upper decks of the ship. No, it's not because higher decks offer great views (although that's a great perk!). Instead, it has to do with getting around the ship.
Cruise ships are usually laid out with a center promenade area that includes indoor things like the casino, a center bar, restaurants, and shopping. On many ships this will be around decks 6-8. Then there is the pool deck area that's located at the top of the ship. These two areas are where passengers spend the most time outside the cabin.
Having a cabin between the two spots means you are within just a few decks of either. That makes it much easier to get to where you want to go as opposed to waiting on an elevator because you are on a low deck.
71. Cameras are watching you constantly
We've gotten used to seeing security cameras everywhere in life, but ships take it to another level. There are security cameras watching every public area of the major cruise ships. Don't think you'll be able to sneak off and do something you shouldn't be doing. In fact, these cameras are required by law as a way to improve safety onboard.
72. It is possible your ship could pick up refugees
If you are sailing from ports on the East Coast to the Western Caribbean, there's a possibility you could find yourself in the middle of a refugee crisis. The waters between Florida and Cuba are where Cubans trying to make their way to America will set sail, hoping to reach the mainland.
It's not unheard of for cruise ships to run across these people, sailing in makeshift rafts. Rules of the sea call for the cruise ships to render aid, meaning they will stop and help, even if in the middle of a cruise.
73. Cabins at the ends of the ship should have less noise
Cruise cabins are fairly soundproof (though not perfect), but if there is noise in the hallway, it can come in through the door. Case in point is if it's in the early morning hours and a group of people are coming back from the bar on the ship (we've personally had it happen!).
To find a quieter cabin spot, look toward the ends of the ship. Rooms at the ends of halls will have less foot traffic, meaning less noise from passersby.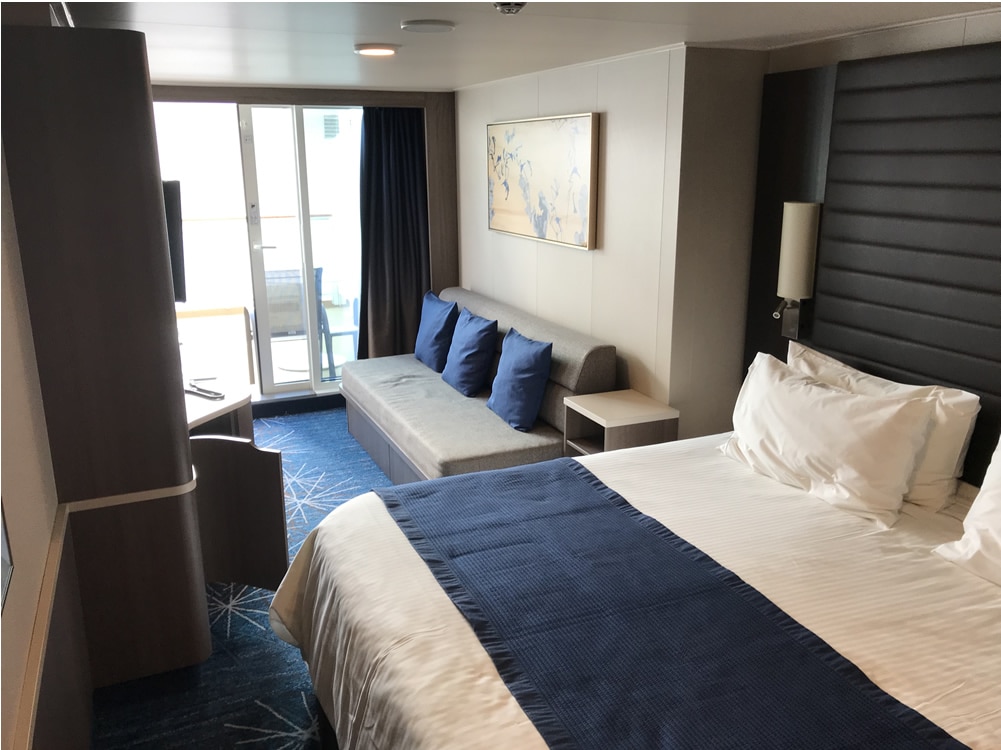 74. Sound can travel between the cabins when you make whoopie
No, the walls of your cabin aren't paper thin, but sounds can travel between rooms. Keep this in mind if you decide to engage in "activities" in your cabin. You have to remember that you are in a small, confined space with lots of people around. Not everyone wants to hear what you do in the privacy of your cabin (especially if it happens late at night).
Keeping things a little quiet can make sure that your fun doesn't mess with anyone else's vacation.
75. While there are lots of rules… you can usually get away with breaking them
There is a difference between rules and laws. Break a law and you'll get busted. But break a rule, and you could just get a slap on the hand. For instance, if you don't want to wear formal clothes on formal night, then don't.
Cruise lines want everyone to have a good time. If you break a rule, they will usually just ask you to stop doing it. It's rare they will kick you off the ship unless you are endangering other passengers or causing a disturbance.
There are even more cruise tips… keep reading: